About Actionwork®
Actionwork® is a Theatre and Film in Education company. We seek to promote empowerment, reduce bullying and violence in schools and raise awareness on a whole range of social issues including sexual harassment, radicalisation, drug misuse, teenage pregnancy, mental health and youth crime. We are committed to producing high quality work in a number of different mediums in order to help young people become empowered. Actionwork® aims to promote understanding of youth conflict and violence, to share skills in handling and transforming violence in schools and the community.
Actionwork® was founded by Dr Andy Hickson when he combined theatre-in-education tours (TIE Tours) with Creative Action in 1990. For over thirty years we have aimed to explore the issues that affect young people such as bullying, racism, cyber bullying, drugs, sex and relationships, pregnancy, family, peer pressure, sexism, disability and homophobia. We've found a variety of fun and interesting ways to educate, entertain and help young people deal with difficult topics.
No venue is too far away for us to travel to, as evidenced by extensive tours that have stretched as far as Japan, China, Africa and South America and workshops that have been as close to home as the Glastonbury Festival in Pilton, Somerset.
The more popular projects that Actionwork® is asked to do with young people are film and theatre based, which sees us going into schools and youth centres devising brand new pieces of work based on the young people's ideas. We've found that it's important to give young people the tools and knowledge to create something of their own that they can feel proud of and have a sense of ownership over. This was particularly evident when we helped organise anti-bullying conferences for young people. Teams of young people came together and decided how, when and where the conference would take place and who they would like to attend. We simply helped them realise their ideas and the results were phenomenal.
We've had the opportunity to work with a wide variety of people, all coming from different backgrounds and bringing different talents and abilities to the table. Some of our most recent work has seen us work with Polish children in Northern England, with young offenders in prisons and Young Offenders Institutions, and with schools for children with varying degrees of disability.
Our projects don't stop with young people. Actionwork® has been campaigning for a number of years for anti-bullying training to be compulsory in teacher training courses. In an effort to move towards this we provide anti-bullying workshops for teachers, youth workers and peer mentors. We've also created resource packs that are filled with ideas and activities for teachers to use with their students, and recently we launched a magazine that focuses on issues of empowerment, called Mpower You Magazine. In fact we've gone an extra step in the new millenium by running virtual anti-bullying and empowerment workshops within the online community of Second Life. We meet with people the world over (or our avatars do, the virtual representations of ourselves) and have lively workshops and animated discussions, literally!
We welcome CVs, headshots and articles on spec so please feel free to get in touch and talk to us about opportunities to work with Actionwork®.
Actionwork® has been members of the Anti Bullying Alliance (ABA), the Society for Intercultural Education and Research (SIETAR), the International Anti Bullying Coalition (IABC) the Association of Children's and Young People's Theatre (ASSITEJ), London Drama (LD), the International Conservatory of Violence in Schools (IOVS) and is International Consultant to Hua Dan (China).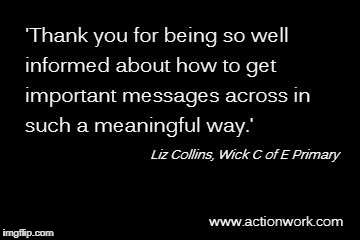 Watch a 3-minute film about Actionwork® here.
"Testimonials" - Read some full testimonials from schools about Actionwork®
Find out more about Actionwork® staff.
Return to Actionwork's home page.