Creative Workshops
We provide a wide range of workshops
Actionwork leading the way in creativity
Interactive creative workshops are an Actionwork speciality. With over 25-years experience we can offer you the ultimate creative workshop experience. Our creative workshops can be run with groups of 10 people to 400 people at a time. We are one of the only companies in the UK able to succesfully facilitate large group creative workshops.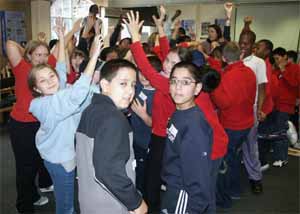 What subjects does Actionwork cover?

Our creative workshop programme covers a wide range of issues and topics that include bullying, racism, homophobia, drug misuse, and relationships.
Specialised Workshops
Anti-Bullying Workshops

Interactive Anti-Bullying Workshops creatively exploring the issues.

Actionwork is the leading provider of anti-bullying workshops in the UK.

Teacher Training INSET sessions

Anti-Bullying INSET for teachers and youth workers.

We are the leading Anti-Bullying training provider in the UK .

Empowerment and confidence

Workshops to help you feel good about yourself.

These creative workshops are positive and fun, helping us to feel good about ourselves.
Social Theatre workshops
Forum Theatre and Invisible Theatre workshops
Actionwork is one of the UK's leading providers of Forum Theatre and Invisible Theatre workshops. We have experienced faciltators who have worked with Augusto Boal, the London Bubble and other groups to train and deliver these exciting and powerful workshops. These are once in a lifetime experiences.
Cyberbullying training programme
1-day Cyberbullying training
An introductory, dynamic, creative, fun and educational 1-day training programme for teachers, lecturers, administrators, psychologists, counsellors, social workers, managers, parents, school governors and other educationalists who want to learn more about dealing with cyberbullying
Peer support and a whole school approach. 2-day workshop.
2-day Peer support training
Actionwork and the Anti Bullying Training Centre and one of the leading providers of peer support training in the country.
Virtual workshops
Virtual Workshops in Second Life
Actionwork is collaborating on E.U. funded projects to provide free anti-bullying and empowerment workshops within the Anti-Violence Center in Second Life. We run these projects in partnership with groups from Germany, Italy, Bulgaria, Spain and France.
Booking a workshop
Actionwork runs creative workshops on a wide range of issues and subjects
Our workshops can generally be booked throughout the year. We can visit you for a day, a week or even longer depending on your requirements. We will visit anywhere in the UK and abroad. To book a workshop or training programme please contact us by phone or e-mail with your requirements. We will discuss your programme with you and look at possible dates.