Sexual Harassment Workshops
Book the Sexual Harassment Workshops.
The Actionwork® Sexual Harassment Workshops are available all year round.
With each workshop booking you get a lesson plan to help consolidate what we have learned in the session.
In a society that has paved the way towards a world where #TimesUp and #MeToo have not only become commonplace but actually had a place to be a focal point, there has never been a more poignant time to break social taboos and have that conversation: What is sexual harassment?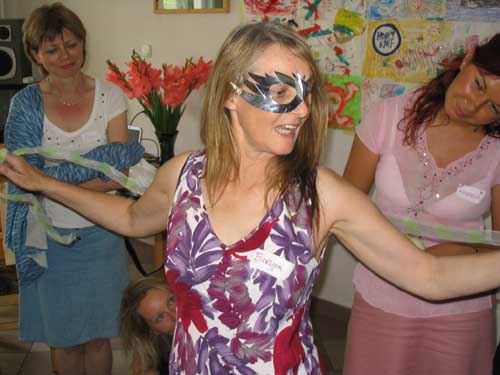 The stage has been set and during this collection of workshops, we will be exploring what sexual harassment is, and what it isn't and how to report it. Aimed at men, women, boys and girls this workshop aims to recognize that anyone can experience sexual harassment and that everyone has the responsibility to do something about it. Education is a key factor when addressing this topic and with all of the coverage and support circulating at the moment, we feel strongly about highlighting this issue that affects all genders.
The workshops last for 60-90 minutes and can be delivered to a whole year group at a time.
We have workshops for:
1) Secondary schools, colleges and adults
2) Primary schools

Book our visit by going to our booking page.
Feedback on Actionwork's workshops
Please note that we have been succesfully touring workshops, shows and roadshows throughout the UK and abroad for many years now. In the UK we have toured to London and the south-east, Bristol, Devon and the south-west, Birmingham, Coventry, Nottingham and the midlands, Manchester, Liverpool, Leeds, York, Warrington and many other parts of the North, Glasgow and Scotland, Cardiff, Swansea and Wales, Isle of man, Weston-super-Mare, North Somerset, and all over the UK.
"Testimonials" - Read recent full testimonials from schools about Actionwork
Here is a selection of comments from teachers and students: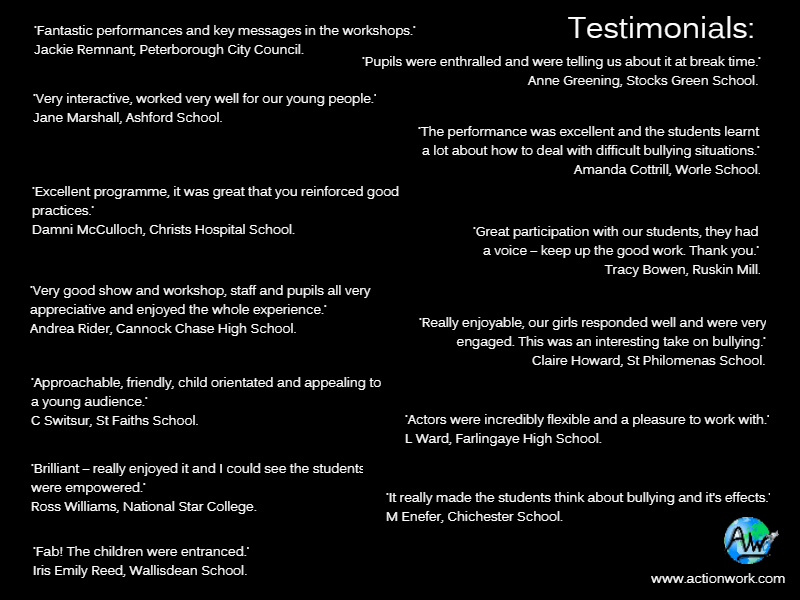 Read an independent evaluation of Actionwork®
Please contact us for details of costs and availability or go direct to our booking page.