Drama Skills Workshops
Book the Drama Skills Workshops.
With each workshop booking you get a complimentary lesson plan to help follow-up the work.
In the Drama Skills Workshop you can learn, develop and build key skills used in theatre. Be that brushing up on your acting technique, learning new theatre means and tricks or learning everything that is involved in putting on your own show. Actionwork® will endeavour to improve your drama skills in a fun and engaging way. Our Drama skills workshop will touch on key acting techniques from practitioners like Stanislavski and Boal, looking at naturalism and emotional memory to try and inspire natural emotion, as well as the theatre of the oppressed and forum theatre to show an alternative structure of theatre that leans itself more towards education. We also look at theatre means and methods, a little stock of tricks that can wow an audience like puppetry, stage combat and physical theatre techniques that entertain and amuse. On top of this it means we will set you up with skills like confidence, empowerment, public speaking and body language.
Workshops in our arts centre will have additional options to choose from such as some of the technical aspects of theatre. We can include sessions on Stage management, tech and sound - some of the key technical things you will have to know if you want to involve yourself in a one or two- handed touring show. Actionwork® teaches some of what there is to know about setting up your own stage and running all your own tech … whilst performing. A rare and limitlessly useful skill that will set any thespian up for a self-sustained career in the arts.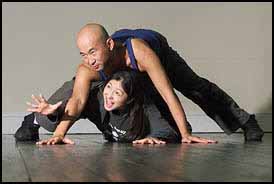 Building Drama skills doesn't just improve stage technique, but also builds on other things such as empathy and confidence. People in the past have gone from being shy and unsure to being confident in interaction with others. They are now confident enough to make decisions, become more outgoing and enjoy the company of others rather than holding back
We are touring workshops for:
1) Secondary schools, colleges and adults
2) Primary schools
3) Plus training workshops in our arts centre

The workshops are now open for booking. Book our visit by going to our booking page.
Feedback on Actionwork's workshops
Please note that we have been succesfully touring workshops, shows and roadshows throughout the UK and abroad for many years now. In the UK we have toured to London and the south-east, Bristol, Devon and the south-west, Birmingham, Coventry, Nottingham and the midlands, Manchester, Liverpool, Leeds, York, Warrington and many other parts of the North, Glasgow and Scotland, Cardiff, Swansea and Wales, Isle of man, Weston-super-Mare, North Somerset, and all over the UK.
"Testimonials" - Read recent full testimonials from schools about Actionwork
Here is a selection of comments from teachers and students: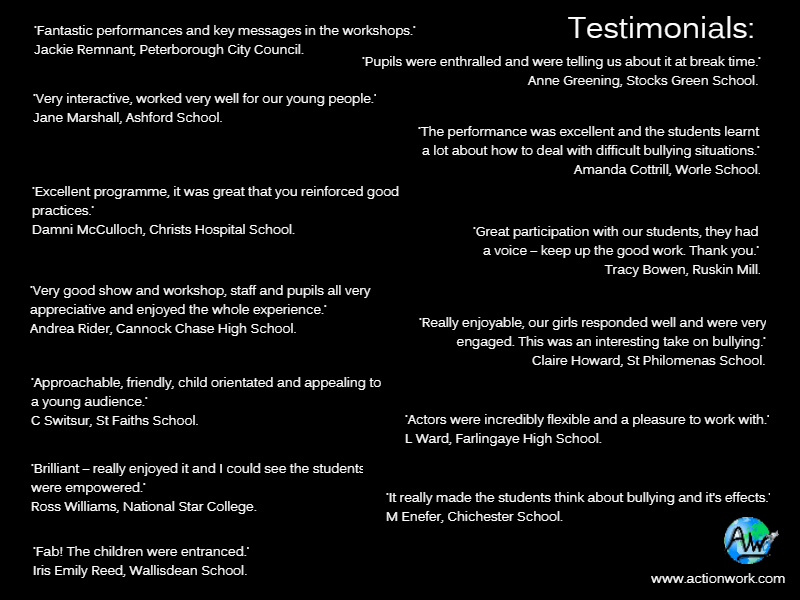 Read an independent evaluation of Actionwork®
Please contact us for details of costs and availability or go direct to our booking page.