Actionwork® staff
Actionwork has employed staff from all over the world. We search high and low for the best creative workers, performers, directors, choreographers, filmmakers and facilitators to bring you the best in film and theatre in education. We welcome CVs, headshots and articles on spec so please feel free to get in touch and talk to us about opportunities to work with Actionwork®. The people listed below may still be working as listed but they may also have moved on to other fields and areas of work.
Actionwork staff
Andy Hickson
Director

Beth Jackson
Prod Manager

Becky Mitchel
Education Manager

Chris Singleton
Youth Manager

Sally Griffiths
Resource Exec

Harry Bullot
Actor

Zak Chowdhury
Consultant

Keeley Harrison
Actor

Steve Depoortere
Stage Manager

Dr Sue Jennings
Consultant

Allison Opaon
Actor

Tony Cealy
Consultant

Some of our current volunteers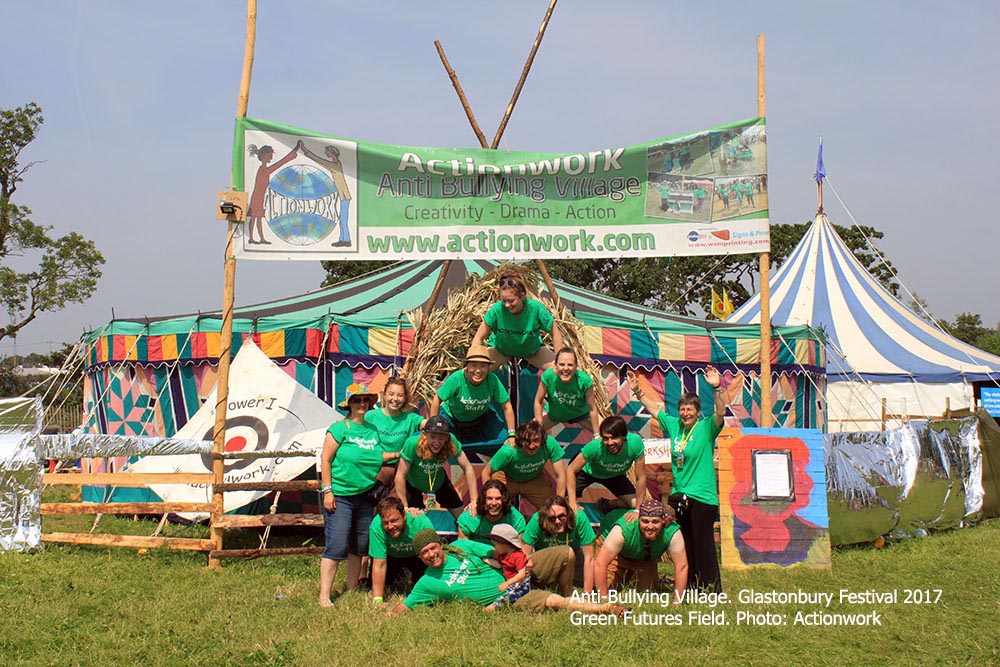 Previous Actionwork staff
Jennifer Shaw
Actor

Jen Southall-Teale
Stage Manager

Ione Meyer
Performer

Jerry Coady
Singer

Kia Pettifer
Stage Manager

Lisa Hollinshead
Stage Manager

Masashi Fujimoto
Actor

Michael Bridgeland
Actor

Nadia Giscir
Actor

Patrice Naiambana
Actor

Noriko Sakura
Actor

Rose Eastaugh
Facilitator

Tola Lawal
Actor

Ben Sayah
Facilitator

Freddie Drakes-
Thomas - Actor

Sam Griffiths
Facilitator

Duncan Taylor
Actor

Vashti Cassinelli
Creative Worker

Tony Dallas
Storyteller

Zoe Cotty
Facilitator

Penelope Lee
Producer

Kath Vernez
Actor

Hannah McKenzie
Actor

Stuart
Actor

Hannah Drake
Director

Natasha Santos
Actor

Ragevan Vasan
Actor

Stephanie Glide
Actor

Alex Ward
Actor

Miriam Battye
Actor

Sam Morris
Actor

Becky Brynolf
Creative Worker

Cath Davis
Producer

Tom Gilbert
Creative Mangager

Glenn Dallas
Consultant

Will Hatcher
Creativity

Roanna Bond
Actor

Sophie Hickson
Facilitator

Sandy Akerman
Facilitator

Sophie Jones
Actor

Talulah Pollene
Actor

Toby Waterworth
Actor

Alex Ranahan
Actor

Actionwork
Creativity

Actionworkn
Creativity

Actionwork
Creativity

Actionwork
Creativity

Actionwork
Creativity

Actionwork has many talented young people who have worked with us, such as singers Lhamea Lall and Karl Griffiths. Karl was the winner of our National Anti-Bullying Music Competition in 2006 and Lhamea won our Damilola Young Achiever of the Year Award in 2005. You can find out more details about Karl and Lhamea here.
We are always on the lookout for fresh, creative, energised and dynamic people to come and work for us. If you would like to work for Actionwork, read what it's like working for us from an Actionwork Creative Worker's perspective before you send us your CV, photo and other details.
Return to Actionwork's home page.