Actionwork® Virtual workshops
In recent years Actionwork has been involved in two international projects funded by the European Community (EU). They are the 'Avatar at School Project' and the 'Anti-Violence Campus in Second Life'.
The Anti-Violence Campus in Second Life (AVC@SL) provides a virtual environment that aims to facilitate learning and collaboration in the virtual world of Second Life. At our virtual campus you can attend courses, seminars, workshops, film displays, exhibitions or other events, you explore the information we exhibit throughout our campus, you can discuss with experts or simply meet others interested in or dealing with on school bullying, violence, racism and xenophobia.
Actionwork® are managing the Creative Arts Centre (The Arc) in the AVC where we run FREE creative workshops including role-plays and anti-bullying workshops. We also hold art exhibitions, theatre demonstrations and show films in our virtual cinema.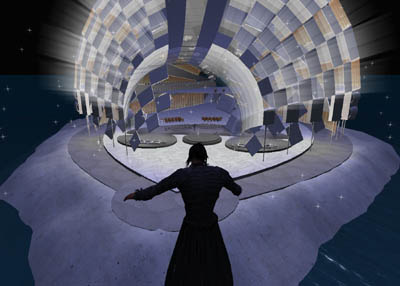 This project is now finished and it is no longer possible to participate. If you would like to find out about any of our sessions, exhibitions or showings in the Arc, please check out the Actionwork news channel on our home page or contact us. Actionwork® are one of seven European partners involved in the AVC@SL project, including those from Italy, Germany, Spain, France and Bulgaria.
---
The Avatar at School project helps stop bullying and violence in our schools using an innovative online peer mediation process. As a part of this EU-funded project aVataR@school teams from the UK, Italy, Germany, Spain and Romania developed an internet-based virtual three-dimensional environment for pupils in schools throughout Europe where they can cooperatively practice to deal with school bullying and victimisation. Using tools developed from this project, it is possible for pupils to interact and exchange ideas through virtual role-plays with other pupils in other parts of Europe.

During this project we held 20 role plays where 40 schools from across Europe participated. The role plays were moderated by the experts from the aVataR@school project. The roles of the bullies, bullied, bystanders, teachers and mediators were be played by pupils of the participating schools. Apart from detailed instructions on how to access and use the virtual environment created in the aVataR@school project each school was be provided with role play scenarios and role instructions for each of the pupils participating in the role play. The expected time involvement for participating schools was around 6-8 hours (2-3 hours for the virtual role play itself and around 4-5 hours of preparation and organisation). Best of all it was FREE to participate. More details about the Avatar project can be found here.
Although this project is now finished, Actionwork® is still holding virtual mediation role-plays. If you would like to get involved please contact us.
Booking a virtual creative workshop or role-play
Our virtual workshops are generally available throughout the year.
Please contact us for details of costs and availability.
A selection of our intyernational projects:
Return to Actionwork's international main page.
Return to Actionwork creative workshops main page.