E-safety Roadshow
Book the E-safety Roadshow.
The E-safety Roadshow is tours the UK and abroad for Safer Internet Day and Anti Bullying Month.
With each roadshow booking you get free anti-bullying posters to display round your school, an anti-bullying resource dvd and an e-safety lesson plan.
The Roadshow complements the themes for Safer Internet Day, Week and Month.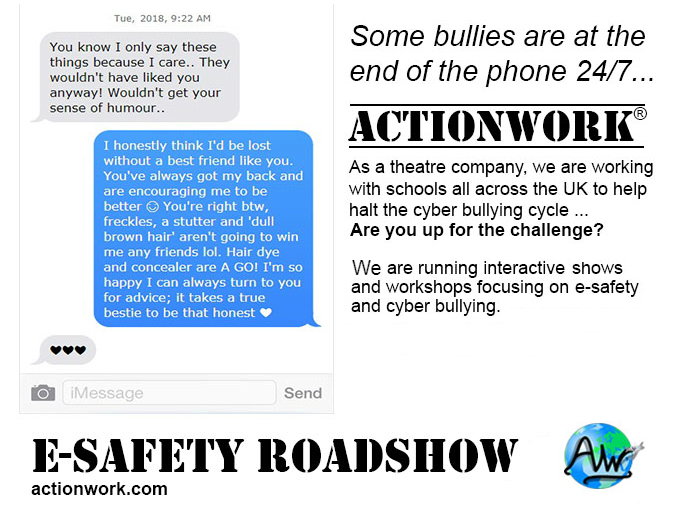 The Roadshow is powerful, fun and exciting. It includes, science, strategies and the most up-to-date research and information on e-safety as possible. In addition to promoting safe and positive uses of digital technology, looking after our digital footprint and taking care of our online identity, we also encourage the audience to question, explore and share aspects of the subject themselves.
The Roadshow lasts for 60-minutes and can be performed to a whole year group at a time.
The Roadshow can be complemented by additional creative interactive workshops - please ask for details.
Every year Actionwork produces national and international Roadshows. This tours to schools, youth clubs, colleges, universities and parent groups all over the UK and abroad. Check out Anti-Bullying Week here. Previous roadshows have included: Cyber Tears, The Science of Bullying, Chronicle of a Bully, Cyber Scream, Clash, and Silent Scream. Our anti-bullying roadshow has been called the ultimate theatre-in-education experience.
We will be touring roadshows for:
1) E-safety Roadshow for Secondary schools, colleges and adults
2) E-safety roadshow Roadshow for Primary schools

The Roadshow is now open for booking. Book our visit by going to our booking page.
Feedback on Actionwork's Roadshows
Please note that we have been succesfully touring workshops, shows and roadshows throughout the UK and abroad for many years now. In the UK we have toured to London and the south-east, Bristol, Devon and the south-west, Birmingham, Coventry, Nottingham and the midlands, Manchester, Liverpool, Leeds, York, Warrington and many other parts of the North, Glasgow and Scotland, Cardiff, Swansea and Wales, Isle of man, Weston-super-Mare, North Somerset, and all over the UK.
"Testimonials" - Read recent full testimonials from schools about Actionwork
Here is a selection of comments from teachers and students: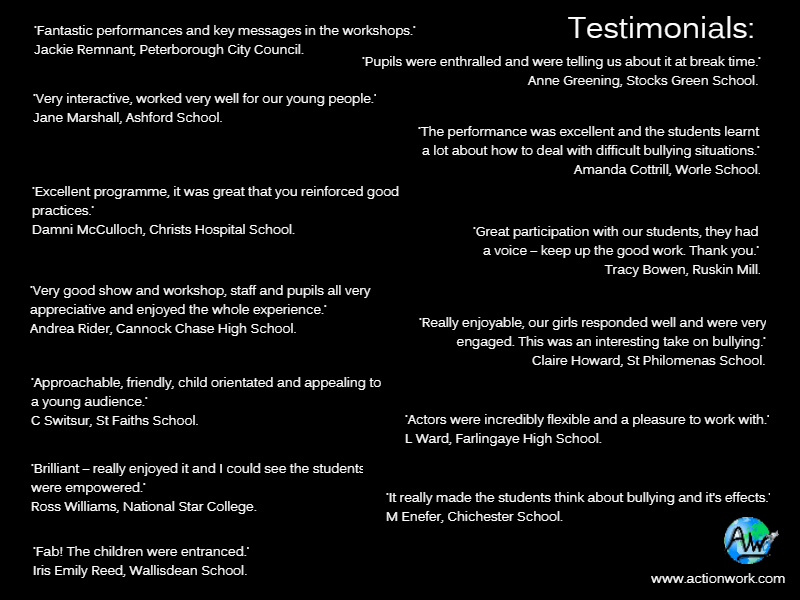 Read an independent evaluation of Actionwork®
Please contact us for details or go direct to our booking page.