Drug Misuse Roadshow
Book the Drug Misuse Roadshow.
With each roadshow booking you get a complimentary lesson plan to help follow-up the work.
'Weston High', the Drug Misuse Roadshow does not preach or condescend, it tells it how it is; highlighting the dangers of drug abuse and drug misuse in a creative and accesible way.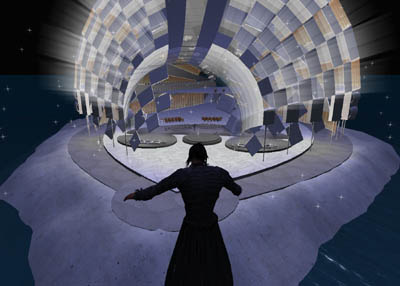 The Roadshow is powerful, educational, high energy and high impact. We look at why young people abuse drugs and why it is important to prevent drug and substance misuse. We look at the types of illegal drugs on the market, the harm that they can produce both physically and psychologically, peer pressure, the role of friendship, warning signs, symptoms and long term health problems.
The Roadshow lasts for 60-minutes and can be performed to a whole year group at a time.
The Roadshow can be complemented by additional creative interactive workshops - please ask for details.
We will be touring roadshows for:
1) Secondary schools, colleges and adults
2) Top end of Primary schools

The Roadshow is now open for booking. Book our visit by going to our booking page.
Feedback on Actionwork's Roadshows
Please note that we have been succesfully touring workshops, shows and roadshows throughout the UK and abroad for many years now. In the UK we have toured to London and the south-east, Bristol, Devon and the south-west, Birmingham, Coventry, Nottingham and the midlands, Manchester, Liverpool, Leeds, York, Warrington and many other parts of the North, Glasgow and Scotland, Cardiff, Swansea and Wales, Isle of man, Weston-super-Mare, North Somerset, and all over the UK.
"Testimonials" - Read recent full testimonials from schools about Actionwork
Here is a selection of comments from teachers and students: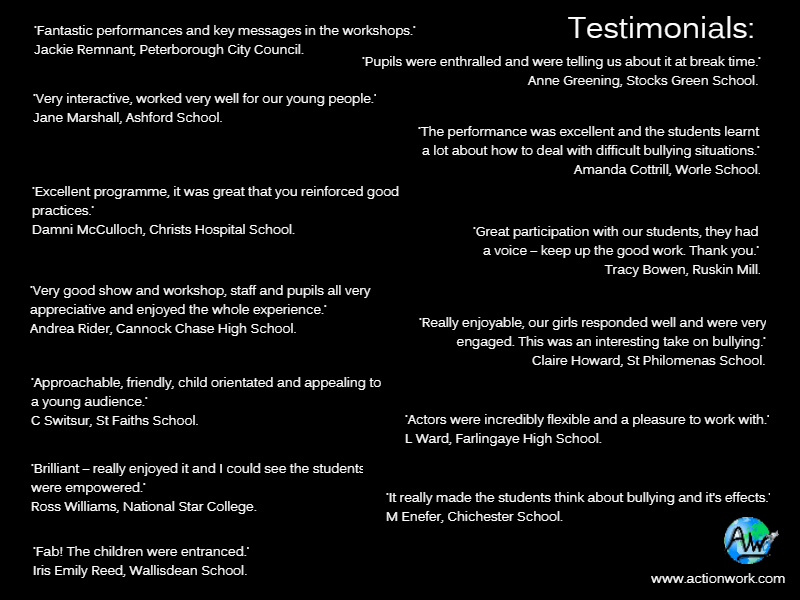 Read an independent evaluation of Actionwork®
Please contact us for details or go direct to our booking page.