Actionwork® working with Local Authorities
Staff at Actionwork® have many years of experience working closely with Local Authorities, County Councils and Borough Education Authorities.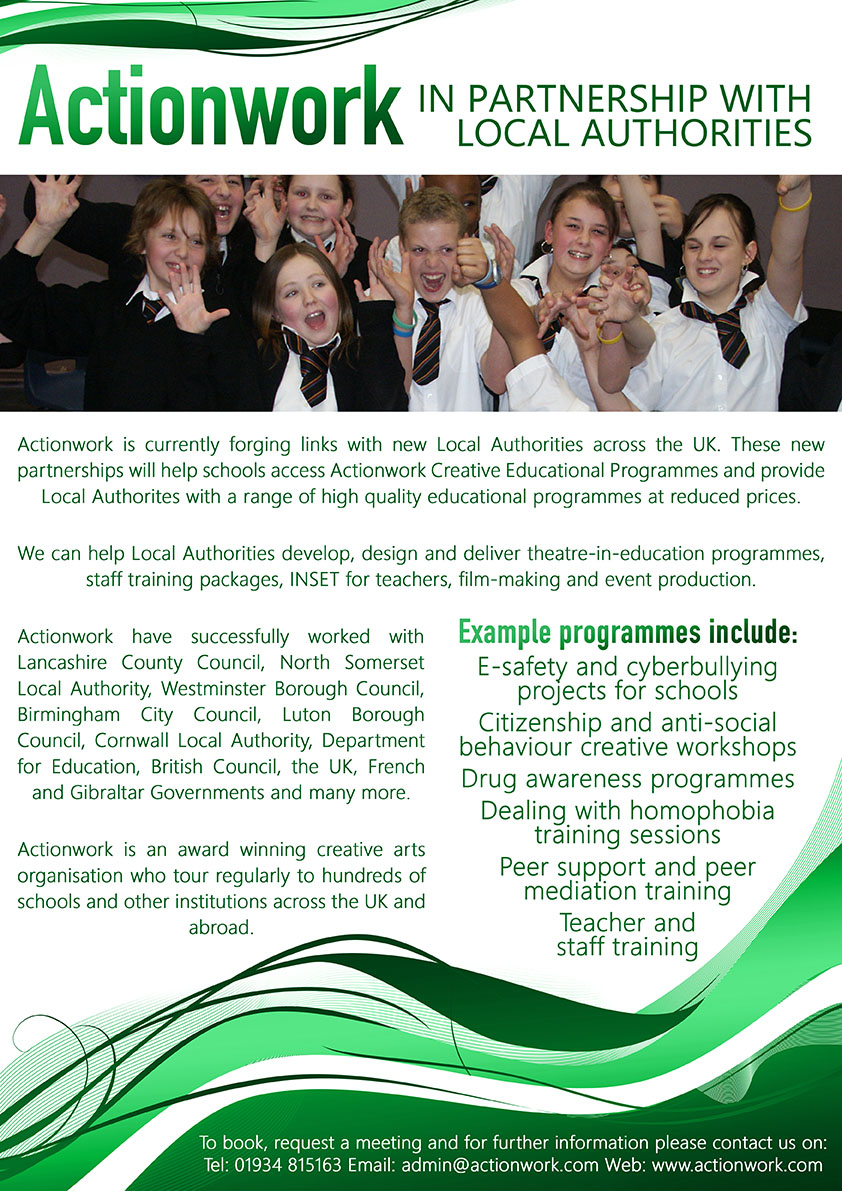 We can help you develop, design and deliver theatre-in-education programmes, staff training packages, INSET for teachers, film-making and event production.
Our qualified team of specialists will work closely with you ensuring all your needs are met and that the programme is designed and delivered to your satisfaction.
Please contact us for more details.
Previous Local Authority and Council collaborations include:
Anti Bullying Training Workshops 2017 with Wolverhampton Borough Council
Respect and Dignity at Work Training 2014 with Gibraltar Government
Anti Bullying Training Workshops 2013 with Camden Borough Council
Anti Bullying Training Workshops 2012 with Bolton City Council
Anti Bullying Creative Workshops 2010 with Ulaan Baatar Street Children Council
Touring the show '33 Skins': tackling racism and victimisation 2009 with Dorset County Council
International Cyberbullying Roadshow 2009 with Corwall Council
National Anti Bullying Roadshow 2009 involving 3 Local Authorities
Anti Bullying Spies Film in conjunction with Westminster Borough Council, London 2009
International Anti Bullying Roadshow 2008 with LA's in UK and Sweden</li>
European Avatar At School Project with Authorities in Germany and Spain 2008
Anglo-Japanese cross cultural tour 2007
National Anti Bullying Roadshow involving 5 Local Authorities 2007
11th National tour of award winning show Silent Scream in conjunction with three Local Authorities 2006
Producing the first International Anti-Bullying festival in conjunction with North Somerset Council 2006
Producing Britains National Anti-Bullying Conference for Young People 2005
Producing a national workshop tour for the Department for Education and Skills (DfES) in 2004
Producing the 2003 Anti-Bullying Roadshow for Walsall Local Authority
Producing Britains National Anti-Bullying Conference for Young People 2003
Producing Cross-London Borough Sex and Relationships Theatre-In-Education tour 2002
Producing Islington Council's Youth Parliament Theatre-In-Education tour 2002
Producing international theatre tour in conjunction with British Council 2001
Producing drugs education theatre-in-education tour for Haringey Council 2000
Producing the 1999 Waverley Summer Creative Arts Festival in Southwark Borough
Producing anti-violence project for Camden Council 1998
Producing the 1997 Lancashire County Council's Theatre-In-Education Creative Workshop tour
Return to Actionwork's home page.