Sexual Harassment
Actionwork® in partnership with schools and reflecting Department for Education advice for schools has developed a range of age-specific creative and interactive workshops that raises awareness of and deals with sexual harassment both online and face-to-face. These creative workshops can be delivered to individual classes or with whole year groups at a time.
The Department of Education in the UK has developed advice and guidelines for schools and colleges for students of ALL ages in assisting them to raise awareness and provide support on sexual harassment and sexual violence. Schools need to provide all the students, as a minimum, with details on what sexual harassment is, how to minimise the risk of it occurring and what to do when it does occur or is alleged to have occurred.
"It is for individual schools and colleges to develop their own policies and procedures. It is important that policies and procedures are developed in line with their legal obligations, including the Human Rights Act 1998 and the Equality Act 2010, especially the Public Sector Equality Duty, and their local multi-agency safeguarding arrangements. It is important that schools and colleges consider how to reflect sexual violence and sexual harassment in their whole school or college approach to safeguarding and in their child protection policy".
(UK Department of Education September 2021).
"We want teachers to be free to address the topics most relevant for their pupils, drawing on good practice and advice from professional organisations". (UK Government Green Paper)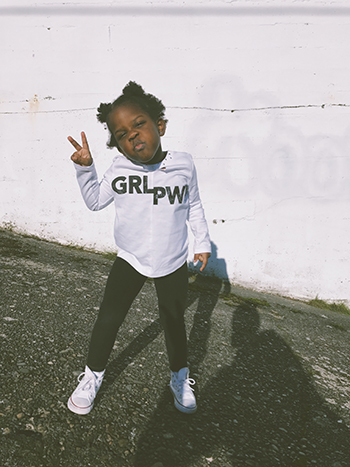 Actionwork® can currently offer schools the following workshops that deal with a raise awareness of sexual harassment:
Workshops for Year 5 (Primary Schools)
Workshops for Year 6 (Primary Schools)
Workshops for Year 7 (Secondary Schools)
Workshops for Year 8 (Secondary Schools)
Workshops for Year 9 (Secondary Schools)
Workshops for Year 10 (Secondary Schools)
Workshops for Year 11 (Secondary Schools)
As mentiond above, all the workshops are age appropriate and include:
Defining and understanding the concept of sexual harassment
Consent
Strategies for dealing with sexual harassment
How to report sexual harassment
The law
Interactivity
Questions, answers and clarifications
Additional specific needs of individual schools and age groups
Booking Actionwork®
We are here to help. Please contact us to discuss your needs.
Feedback on Actionwork's workshops
Please note that we have been succesfully touring workshops, shows and roadshows throughout the UK and abroad for many years now. In the UK we have toured to London and the south-east, Bristol, Devon and the south-west, Birmingham, Coventry, Nottingham and the midlands, Manchester, Liverpool, Leeds, York, Warrington and many other parts of the North, Glasgow and Scotland, Cardiff, Swansea and Wales, Isle of man, Weston-super-Mare, North Somerset, and all over the UK.
"Testimonials" - Read recent full testimonials from schools about Actionwork
Here is a selection of comments from teachers and students: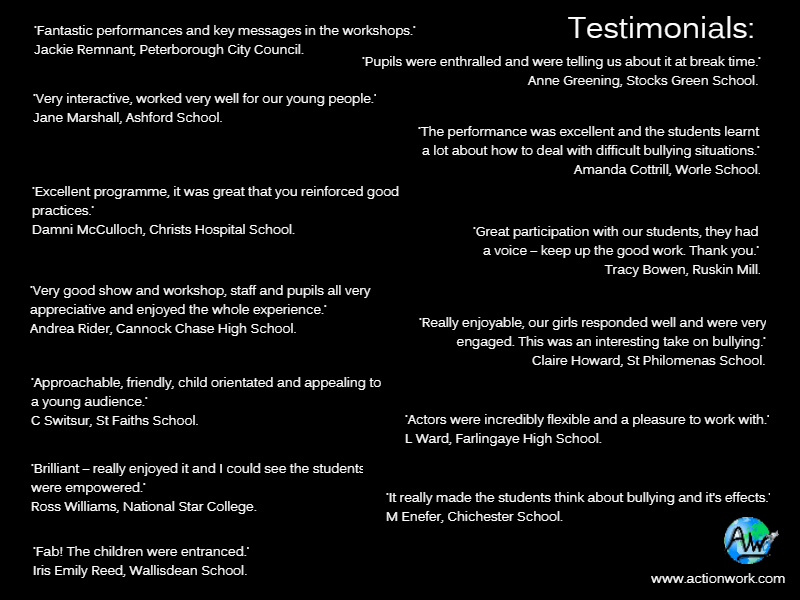 Read an independent evaluation of Actionwork®
Please contact us for details of costs and availability or go direct to our booking page.