Feedback and evaluation
Follow the links on this page to find out what people are saying about Actionwork and to read evaluation reports of our shows, films and workshops
Chubu WEEKLY (Japan) Vol.5 No.12 July.8 - July.22, 1999.
Dramatic seminar deals with bullying By John E. Gibson.
NAGOYA - A seminar that focused on dramatic alternatives to dealing with bullying seem to hit home with the 75 participants who attended the forum last month at the Nagoya Congress Center. England's Andrew Hickson, a director and writer who specializes in interactive drama techniques that help participants better understand relationships, staged a sometimes dramatic and thoroughly enlightening forum entitled, "Preventing Bullying through Drama," put on by the British Council, Nagoya on June 25. Hickson focused on three theatrical techniques - Psychodrama, Drama therapy and Theater of the Oppressed - that he uses to help individuals better deal with bullying. "People who go to the theater and view the theater, in whatever form it takes, are moved by it," Hickson said. "Theater can bring about change," said Hickson, who also stressed that theatrical settings have a "therapeutic function." At the beginning of the session, which spilled over the allotted two-hour time period, Hickson asked the audience what bullying meant to them. There were about 30 responses, which he said demonstrates that "bullying means different things to different people. And what might work to tackle bullying might be different for all of us."
Hickson, who stressed that sometimes words and actions are essential in conveying messages, simulated a psychodrama session. He said that this method focuses on one person, who plays himself, and includes a group that takes on a supporting role by trying to guide the bullied individual to a solution. Hickson took the time to point out that the difference between psychodrama and drama therapy is that in the latter, the individual with the problem is not identified and a play is chosen so that the group can focus on the problem and not the person involved. He also mentioned that Theater of the Oppressed methods feature a workshop in which participants act out an example of oppression and members of the group can stop the action, take on the role of the protagonist and attempt to resolve the situation. Hickson said that the theater leaves an impression on audiences and the brief examples that Design City residents witnessed left some of them inspired.
"It just opened my eyes to ways that theater can be used in practical situations," said Max Tuefferd, a member of the local acting troupe, the Nagoya Players. "The changing of roles gives bullies an idea of what it feels like," said Masami Ono, an elementary school teacher in Aichi. "Using these kinds of methods, which include actions, can help both sides understand the problem of bullying," Ono said.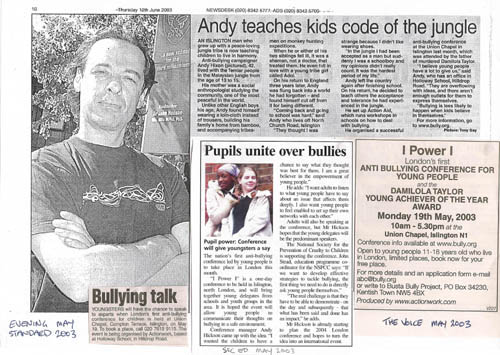 Feedback comments from participants
- "Fantastic performances and key messages in the workshops" Jackie Remnant, Peterborough City Council
- "Pupils were enthralled and were telling us about it at break time" Anne Greening, Stocks Green School
- "Very interactive, worked very well for our young people" Jane Marshall, Ashford School
- "Excellent programme, it was great that you reinforced good practices" Damni McCulloch, Christs Hospital School
- "Great participation with our students, they had a voice – keep up the good work. Thank you" Tracy Bowen, Ruskin Mill
- "Very good show and workshop, staff and pupils all very appreciative and enjoyed the whole experience" Andrea Rider, Cannock Chase
- "Really enjoyable, our girls responded well and were very engaged. This was an interesting take on bullying" Claire Howard, St Philomenas
- "The performance was excellent and the students learnt a lot about how to deal with difficult bullying situations" Amanda Cottrill, Worle Sch
- "Approachable, friendly, child orientated and appealing to a young audience" C Switsur, St Faiths School
- "Actors were incredibly flexible and a pleasure to work with". L Ward, Farlingaye High School
- "Great day, especially the workshop! Nicola Chambers, Priory School
- "It really made the students think about bullying and it's effects", M Enefer, Chichester School
- "Excellent balance of show and workshop" M Temple, Windlestone School
- "Brilliant – really enjoyed it and I could see the students were empowered" Ross Williams, National Star College
- "Invigorating, really helps us as a school to impress the mesage of anti-bullying" Diane Llewhelin, Cardigan School
- "Fab! The children were entranced" Iris Emily Reed, Wallisdean School
- "Your team really encouraged the students to get involved and were very supportive towards them" Kelly Corcoran, Colnhouse School
- "Fantastic, really friendly atmosphere", Rachel Kelly, Denbeigh High School
- "Brilliant – Many thanks. Our pupils loved it" Melanie Turner, East Hill School
- "I liked the 'no contact' rule" Nick Hodge, Aston Tower School
- "A super activity to support our work on anti-bullying. Pupils were given many strategies" Mrs Clark, Ladypool School
- "Simply amazing. A brilliant piece of work." Beverley Hamilton, Whitefields school.
- "Entertaining, lively and thoroughly educational." Thank you. Adrian Bell, Albany Theatre.
- "This work is a must for all schools." Talya Rosenbaum, Stoke Newington School.
- "I never thought dealing with bullying could be so fun." Gary, St James High School.
- "High quality theatre and education." Karl Murray, Head Of Southwark Youth Service.
"Andrew Hickson has helped me to expand my skills. We are all indebted to him for distilling his knowledge and offering it to us with such clarity." Dr Robert Sillman on the Groupwork Manual 1997.
"I want to thank you and your theatre company for performing such a wonderful and thought provoking performance. It was greatly appreciated by all my colleagues from various European Universities and was extremely relevant to our research." Peter K Smith, Professor of Psychology, Goldsmiths University.